the BEAR by Tjechov
Customizing the BEAR
The BEAR by Anton Tjechov is, as you probably know, taking place in the late 19:th century in Russia.
Michael Lechner looked for a partner that could sing country...
So, we took the BEAR out of Russia and placed it in Texas instead.
Smirnov is played by Michael Lechner (behind Hedvig) but he goes by the name of George Smith. AnneLee is Mrs Popov, the widow, here as Mrs Helen Pope, late Mr Nick Popes wife.
Lukas, first played by Vladimir Dikanski but is now replaced by Goran Samuelsson.
Some of the songs appearing in the "western" BEAR
"Blue Eyes Crying In The Rain" by Fred Rose, often sang by Willie Nelson.

"Trouble" and "Cowards And Heroes" by Lee Hazlewood.

"Busted" by Harlan Howard.

"Wasted Days, Wasted Nights" by Freddy Fender/W. Duncan.

"Have You Ever Been Lonely" by De Rose/Brown.

"Battle Of New Orleans" by Jimmy Driftwood.

"All You Ever Do Is Bring Me Down" by R. Malo/A. Anderson.
PR-pic shot for the BEAR with the horse Hedvig on the Swedish countryside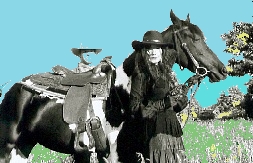 My good friend and drama-teacher at the Stockholm Theatre Academy, Annabelle Rice, called me one day...
She presented an idea for me and asked if I could sing "country". I replied positively to that since I been singing in a COUNTRY band for several years during the ninties. The idea behind the question was to put toghether the classical play into a music show, in the old western style.
Talking about country...this is one of my favorite images
This is my good friend Eddie. I met him at the Beartooth Nature Center of Animal Shelter in Red Lodge, Montana, USA